Do you have a baby ready

 or soon to be ready

 to start solids?

 

Would you like to know more about signs of readiness & types of food

 

to feed them?

 

Would you like to build some confidence in feeding your baby?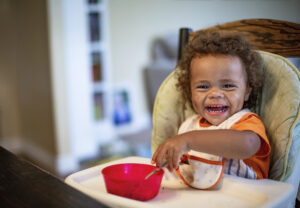 If so, then this new and completely free online course is for you! Over the course of 5 sessions with a qualified dietician, we will explore signs of readiness, what to feed your baby, allergens, busting myths, compare shop versus homemade versions and much more.   
Parents learn about: 
W

hen to introduce solid foods, signs of readiness, what foods and texture in a practical way, whilst continuing to breast-feed and/or infant formula feed. 

 

Different food groups and the key nutrients for infants from 6 months are covered: the importance of high fat and low fibre foods, of calcium and iron-rich foods and which foods too, avoid

 

 

Explore the

benefits of home-prepared food versus convenience 'jar' food

 

and what's on a label

 

Difference between choking and gagging 

 

 

Introduction of allergenic foods one at a time

 

 

Healthy s

nacks and lots of recipe ideas

B

aby

–

led weaning

 

Food safety from 6 months

 

 

Different cooking methods

 

 

Responsive feeding

 

 

Signposting to other services where appropriate

 

 
To book your place, please contact Andrea on 020 8269 4885/07708 476727 or email andrea@gcda.org.uk