What is it?
The Healthier Catering Commitment (HCC) is a voluntary scheme for food businesses developed by the Association of London Environmental Health Managers and the Chartered Institute of Environmental Health and supported by Greater London Authority, Mayor of London office.
The Good Food in Greenwich network supports the development of a local healthy and sustainable food environment, and the HCC scheme comes under this initiative.
The scheme is designed to support fast food or café businesses, to help them make simple and affordable changes to the food they sell, to make it healthier for you.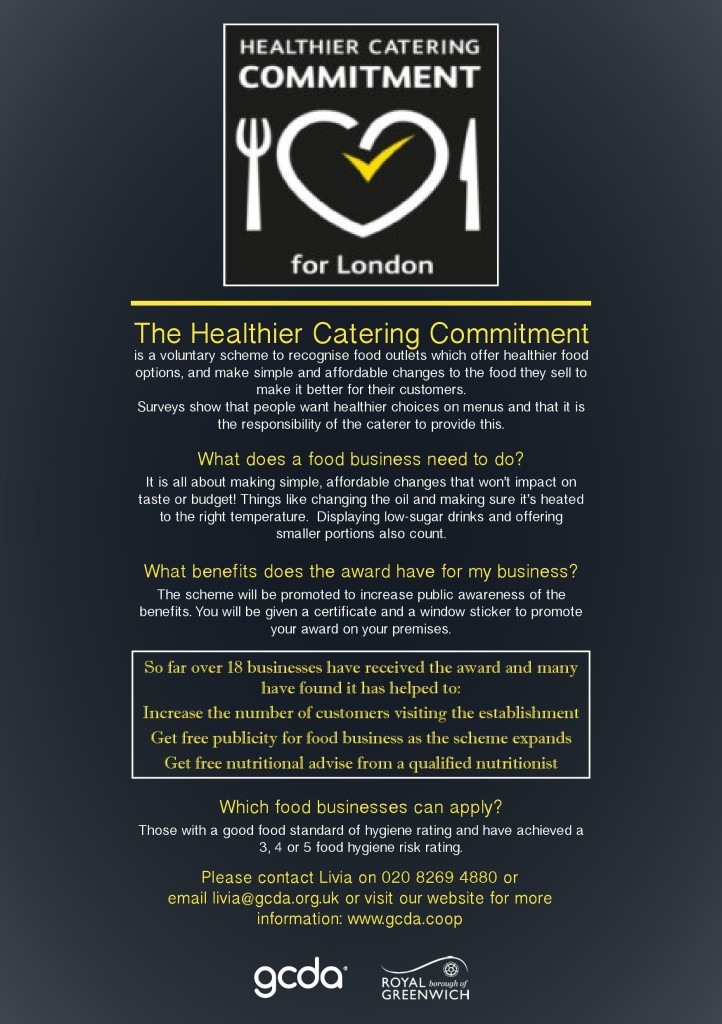 There is link between what we eat and our health
Too much salt in our diet can cause high blood pressure, which increases the risk of heart disease and stroke.
Too much fat and sugar in the diet increase risk of being overweight, which increases the risk of diabetes and heart disease.
Fruit and vegetables help protect against heart disease and cancer.
Too many sugary foods also increase the risk of tooth decay.
People are increasingly eating outside of the home. In surveys, people say:
They want healthier choices on the menu when they are eating outside the home.
It is the responsibility of the caterer to provide healthier choice.
They want to see more grilled and vegetarian options on the menu.
When a food business signs up to the HCC scheme, it commits to improving the food they sell by making small changes, such as:
Changing the oil, they cook with to healthier alternatives
Heating oil to correct temperature and regularly replacing used cooking oil with fresh cooking oil. This can help chips, and other fried foods soak up less fat during the cooking process
Offering some healthy options (for example, lower sugar drinks and snacks); and
Making smaller portions available on request.
HCC Compliant Business as of September 2106
| | | |
| --- | --- | --- |
| Waterfront Café, Waterfront Leisure Centre | 30 Woolwich High St | SE18 6DL |
| Eltham Café, Bistro Bar, Eltham Leisure Centre | Archery Road | SE9 1HA |
| Pistachios, (Yum Yummy Ltd) | Chevening Road | SE10 0LB |
| Avery Hill Park Café | Avery Hill Road | SE9 2EX |
| Great Sun | 3 The Village | SE7 8UG |
| Valley Café | 20 Charlton Church Lane | SE7 7AE |
| The Old Cottage Coffee Shop | Charlton Park, Charlton Park Rd | SE7 8UB |
| The Baguette | 2a The Village | SE7 8UD |
| First Choice | Hare Street | SE18 6NE |
| Star Banqueting Star Express | 39-43 Hare Street | SE18 6NE |
| Chicken & Pizza | 31 The Village | SE7 8UG |
| Sam's' Chicken | 9 Plumstead Road | SE18 7BZ |
| New Leaf Community Café | 124a Blaker Court, Charlton | SE7 7EU |
| Top Fryers Fish Bar | 37 The Village | SE7 8UG |
| Ziyafet | 200 Eltham High Street | SE9 1DB |
| Kim's Fish & Chips | 122B Plumstead Common Road | SE18 |
| Griller | 14a Conway Road | SE7 7DB |
| Bistro at Greenwich Carer's Centre | 76 Hornfair Road | SE10 9HP |
| Foodies | 139 Vanbrugh Hill | SE10 8LF |
| Golden Chippy | 62 Greenwich High Rd, | SE3 9LA |
| Age Exchange | 11 Blackheath Village | SE9 1BT |
| Royal Kebab (Charcoal Grill) | 48 Eltham High Street | SE9 1UT |
| Star Grill | 108 Westmount Road | SE9 1 BW |
| Delicio | 116 Eltham High St | SE18 6JF |
| Koffees and Kream | Unit 5 The Vista Building, 25 Calderwood Street | SE18 6JQ |
| Friends Café | 2-3 Barnards Close, Woolwich | SE18 6AB |
| Coffee Lounge | Equitable House, 29 Green's End Woolwich | SE10 8JA |
| G-West café | 141 Greenwich High Rd | SE7 7DB |
| Aroy-D-Thai | Gordon Square Woolwich | SE10 9HP |
 Golden Chippy, Mr Huseiyn Kanizi, owner  Healthier Catering Commitment awarded 2016
Rust Bucket Pizza Company, Vitto Marino, owner, Healthier Catering Commitment awarded 2017
How can I tell which fast food business is participating in this scheme?
Food businesses who adopt the scheme display the Healthier Catering Commitment logo on their business windows, doors or walls.  So look out for this sign when you are next visiting a fast food outlet or café in your area 
Signing-up to HCC
Businesses with a 3, 4 or 5 Food Hygiene Rating Score, wishing to join the HCC scheme, are assessed and given advice on how to meet at least eight qualifying criteria.
Where should I go to find out more about the Healthier Catering Commitment scheme? 
GCDA assesses businesses interested in taking part in this scheme to help them  achieve  the free HCC award.
If you are an eligible fast food or café business or are a local resident in the Royal Borough of Greenwich and are interested in finding out more about the HCC scheme, then contact GCDA on 0208 269 4880 and speak to Livia, or email her at  livia@gcda.org.uk .