So far in the last year and a half we have set up two canteen/cafes. Vinyl Canteen (Hayes) also offers an external catering service and Lounge @The Arc Harrow. Each food business we open will adhere to the GCDA core. All food business we own will will be affordable, sustainable, healthy and ethical.  We have big plans for he futureand aim to have three more food businesses open within the next six months.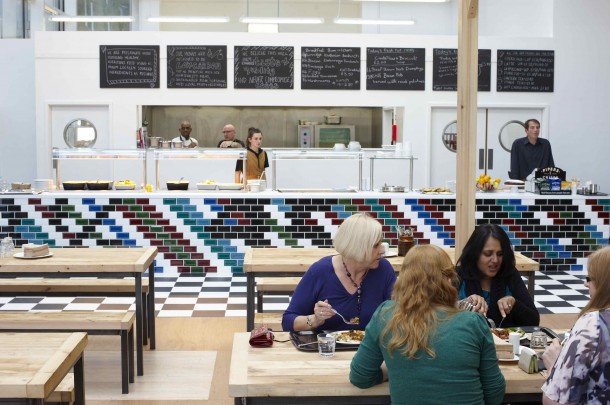 Opened in October 2011, The Vinyl Canteen is situated in the Old Vinyl Factory www.theoldvinylfactory.com.
Situated on the ground floor of the Shipping Building the Vinyl canteen offers a new daily menu is prepared everyday byour very talented delicious meals, snacks and cakes using sustainable sourced and fairly traded ingredients.  Just as delicious are the interiors by Morag Myerscough, including a wall of 7" singles and Morag's signature supergraphics.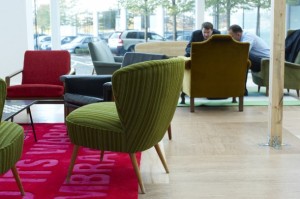 The key themes for our menus are affordability, sustainability, health and access. This means we base our menus on fruit and vegetables and carbohydrates with lower amounts of meat and dairy.  This helps us reduce costs and carbon but also e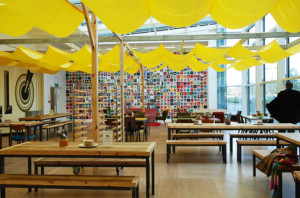 nsures we can keep our prices low and our meals meet healthy eating guidelines and are accessible to people with different dietary and cultural needs.  We are a London Living Wage Employer and train and look after our staff which ensures a low staff turnover and investment from them in the business.
The Canteen is open to the public from 7.30 to 3.30 Monday to Friday and The Canteen is available for private functions outside those times. The Canteen has hosted weddings, conferences and parties.
Lounge@The Arc
Our newest café opened on September 21st 2015. It is situated with the beautiful new venue the Arc, within the newly created Lowlands …..
In partnership with Harrow College GCDA is running the café and s
supporting he operation of this new, bespoke performance space.
Located in the area formerly known as Lowlands Recreation Ground, this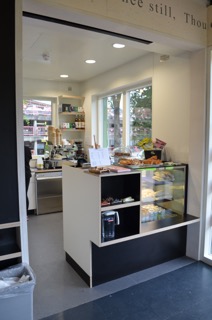 now
rejuvenated park offers a vibrant new performance space and café, children's play area, green gym, basketball court and outdoor table tennis. This brand new performance space is part of a regeneration project to rejuvenate Harrow through performance, art and culture, and provides residents with a green space for rest and recreation.