There is no better way to shop for fresh sustainable produce or taste exciting new dishes than at an open-air market. Not only that, but traditionally, many new businesses cut their teeth on market stalls and go on to develop in exciting new directions. GCDA has been involved in running markets and supporting new market-based businesses for decades, and we are extremely proud of our current markets in Woolwich and Kidbrooke. We spoke to our Market Manager Jas Sahota about how our markets have helped create flourishing communities and hear from him about the plans for this summer.
"I absolutely love my job helping support GCDA's markets alongside my colleague Christina Reynolds, who's GCDA's Greenwich Partnerships Development Lead. Our market at Royal Arsenal in Woolwich runs on the second and last Saturday of every month with more than 40 regular traders selling street food, fresh produce, arts and crafts.
"We know that at Woolwich's Royal Arsenal we've been instrumental in helping create a thriving community in a place that's seen lots of rapid change. The chat on the local social media pages is so positive. People now meet their friends regularly at our market, and we've attracted hundreds of people to the area. During covid we realised we were helping to keep people going through some difficult times.  We were providing a vital service. Since then, we've gone from strength to strength and it's fair to say our local traders have created a great vibe"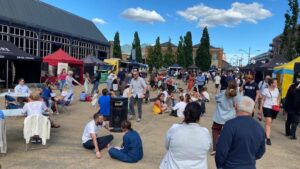 "We started our Summer Lates last year, with an extra market on the first Saturday of every month from May through to September, with street food, drinks, live music and DJ sets. Our next Summer Late is on Saturday August 6th (from midday – 7pm) and it's going to be great! Theatre company Punchdrunk will be putting on some entertainment and Bonnie and Rose will be there with their stylish mobile cocktail  bar. We'd love you to join us!
In addition, GCDA has recently started Sunday Brunch, a small market in Kidbrooke that runs on the second Sunday of every month in Pegler Square, just in front of the station. We're still relatively new, but we already have around 18 regular traders and are growing all the time. GCDA has always been very supportive of its traders. Many have been on our business training courses, and we really enjoy seeing them develop."
We have got quite a waiting list to trade at our markets, but if you are  interested in having a stall please do get in touch with us by emailing market@gcda.org.uk
You can stay up to date with our Summer Late events and other market news by visiting our Facebook and Instagram pages