article from the vegcities.org website
7 vegetable stalls have been successfully set up in the Royal Borough of Greenwich in schools and Children's Centres.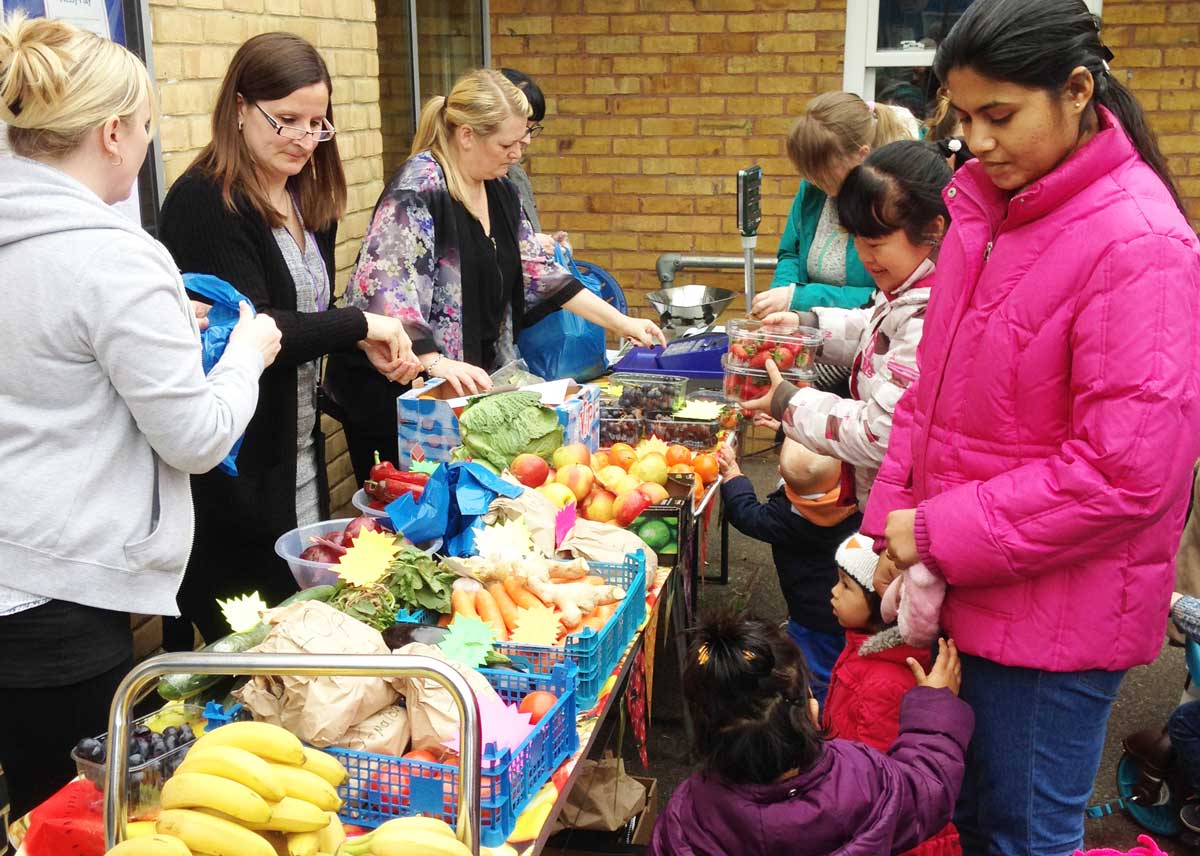 GREENWICH FRUIT AND VEG STAL
Over forty percent of the population in the Royal Borough of Greenwich reside in the 20% most deprived areas in the country. Almost 1/3 of the borough's children carry excess weight at the start of primary school and this increases to 40% when they leave for secondary school.
To fight these serious statistics, the Greenwich Co-operative Development Agency (GCDA), among other initiatives, facilitates setting up fruit and vegetable stalls across the Royal Borough of Greenwich where local shops offer very little fresh food produce and it is typically stocked below the eye-line on the bottom of shelves.
The project was launched at Mulgrave Children's Centre in May 2015 and quickly expanded across the 6 other locations including other Children's Centres, schools and one community centre. They offer a selection of seasonal fruit and vegetables, and each week a total of 500kg of fruit and vegetables are sold at affordable prices to around 300 local residents. The stalls are located outside in a playground or by an entrance and usually run for an hour or more depending on the site.
The success of this healthy eating initiative is due to the experience of the GCDA in running healthy eating initiatives including to guide, source, store and distribute wholesale produce to the community stalls. The stalls are financially viable due to the low running costs and wholesale produce. Because they supports the Children's Centres and other settings to achieve one of their core roles (engage with families and the community), the host organisations are happy to invest staff time.
The project is making it far easier for families to include more fresh produce in their diet because they now have the opportunity to purchase seasonal fruit and vegetables in their local neighbourhood whilst picking up their children from children's centres, school or nursery or walking through past their local community centre. Evaluation shows that families look forward to the stall and it influences their shopping habits. They also attract volunteers from local community, and provide some with the opportunity to develop skills to increase their employability
The Children's Centres are registered as Healthy Start retailers and are able to exchange Healthy
Start vouchers for fruit and vegetables sold on their weekly stalls.
For any further information please contact livia@gcda.org.uk, project facilitator.
Thank you to vegcities.org for running this article.