Taking over the catering service at Mulgrave Primary School
Mulgrave Primary school has taken over the catering services, which means that school meals, breakfast club and after school club food is planned, prepared and cooked fresh by a team of catering staff led by Claire Byrne, the school's catering co-ordinator.
Healthy, sustainable and seasonal eating was core to Mulgrave's decision to take over the lunch service, after consultation with school council, staff, governors and parents.
In recent years, concern over what children are eating and how it may impact on their health and well-being has grown, and in particular for those whose diets and physical levels could improve.  Mulgrave is passionate about supporting pupils to eat healthily and ensuring that health and well-being is a part of everyday life at Mulgrave school.
The new lunch menu, up and running since September 2015, is innovative, high in fresh fruit and vegetables and sustainably sourced fish, making it a menu which is healthy for everyone and better for the environment.    A vast amount of natural resources are used (e.g. water) or destroyed (forests) to grow animal crops and create grazing grounds for the large amount of animals reared for human consumption. Grazing animals produce methane (a greenhouse gas), which is linked to rising global temperatures. A reduction in consumption of meat will considerably help to protect our planet.  Importantly, taking over the catering services fits in with the Mulgrave school's Education for Sustainable Development (ESD) ethos, noted by Ofsted at last inspection to be a strength of the school.
Pupils and staff are happy with the new menu, they find it refreshingly tasty.   Below is the autumn menu plan  Insert menu plan here
Mulgrave was supported by GCDA to develop the new in-house vegetarian and fish lunch service.  The Autumn, Spring and Summer menus underwent rigorous planning to ensure that they embrace the School Food Standards and include all the important nutrients children need for growing well.
At the start of September, GCDA's chefs were brought in to support kitchen staff to adapt their skills to cook new dishes full of fresh ingredients.  Kitchen staff received training on knife skills, healthy eating and on the whole school approach to food.
At Parents' Day (Oct 2015) parents and children had the opportunity to taste some of the dishes on the school menu, such as Minestrone soup, Lentil and chocolate raisin cake.  Parents were pleasantly surprised at how tasty and healthy school vegetarian dishes at Mulgrave are and were eager for their children to change from packed lunch to school meals.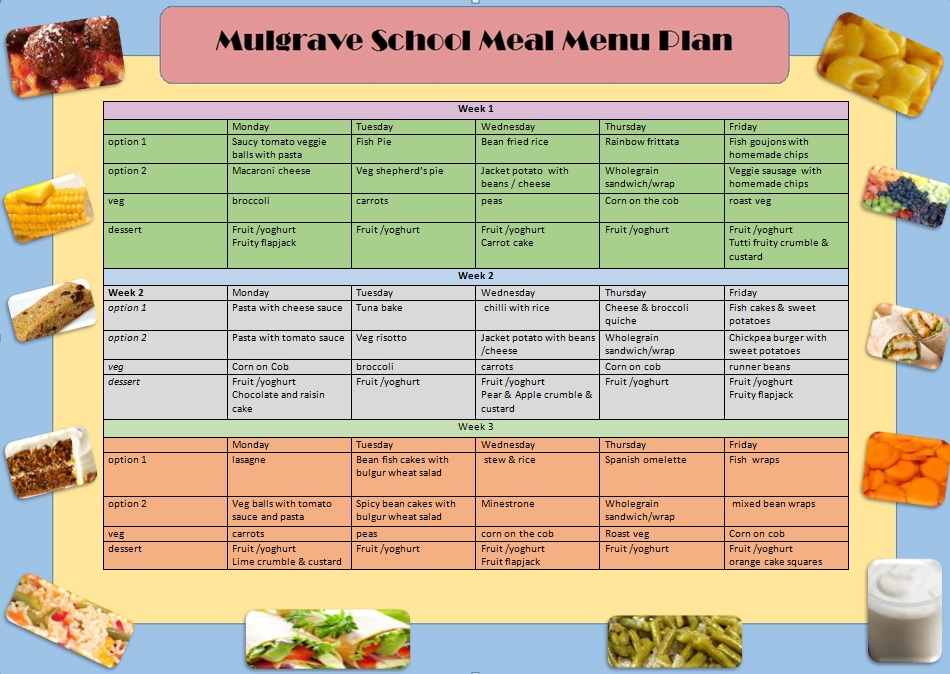 Food is high on Mulgrave School's agenda.   The approach to food and drink is a whole school approach.  It permeates the whole school experience and it is the framework that guides the development of a healthy food culture in a school. This approach is endorsed by the Head David Dixon, Deputy Head Jasmin Choudhury, Catering Coordinator Claire Byrne and the rest of the staff at Mulgrave Primary School.  The approach ensures a consistent whole school approach so that what is taught about food and about healthy eating in lessons is reflected and reinforced in the daily life of the school, with the dining room becoming part of the learning experience.
Undoubtedly, the new catering services, at Mulgrave Primary School, ensures that all food available to staff and pupils and to the wider community is nutritious and healthy, and ultimately supports children to learn well and live healthily.