Background to project
A Zero Hunger City (2013) report, produced by the London Assembly, defines food poverty as 'the inability to afford or access[1] healthy food'.
Another report Poor Beginnings 2015 shows that a child's chances of experiencing poor health outcomes such as obesity, tooth decay, depends a great deal on where they grow up.  Young children growing up in deprived areas tend to do worse than those living in less deprived areas.   Over forty percent of the population in the Royal Borough of Greenwich reside in 20% most deprived areas in the country[2].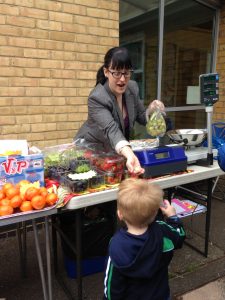 Level of income is an important determinant of overall diet quality, and a low-income level has been linked to a lower diet quality.   A consistent poor diet is a key determinant of ill health and obesity.  A balanced diet, recommended by health experts, consists of at least five portions of fruit and vegetables per day, as well as reducing meat consumption and other foods high in fat, salt and sugar.  National nutrition surveys show that the average daily consumption of fruit and vegetables is approximately 2-3 portions, falling short of the recommended five portions per day.
The National Child Measurement Programme (NCMP) measures the weight and height of children in Reception class (aged 4 to 5 years) and year 6 (aged 10 to 11 years) to monitor rates of overweight and obese children within all state-funded schools in England. Most recent NCMP figures (2013-2014) for the Royal Borough of Greenwich show almost a third (28%) of children aged 4-5 years old carry excess weight , whilstand this increases to 40% in children aged 10-11 years.  Across the London boroughs, Greenwich has the highest obesity rate amongst Reception Year Children. These children are at increased risk of developing an obesity-related disease in adulthood.   A diet, rich in fruit and vegetables, is associated with a lower risk of developing chronic conditions such as diabetes and coronary heart disease.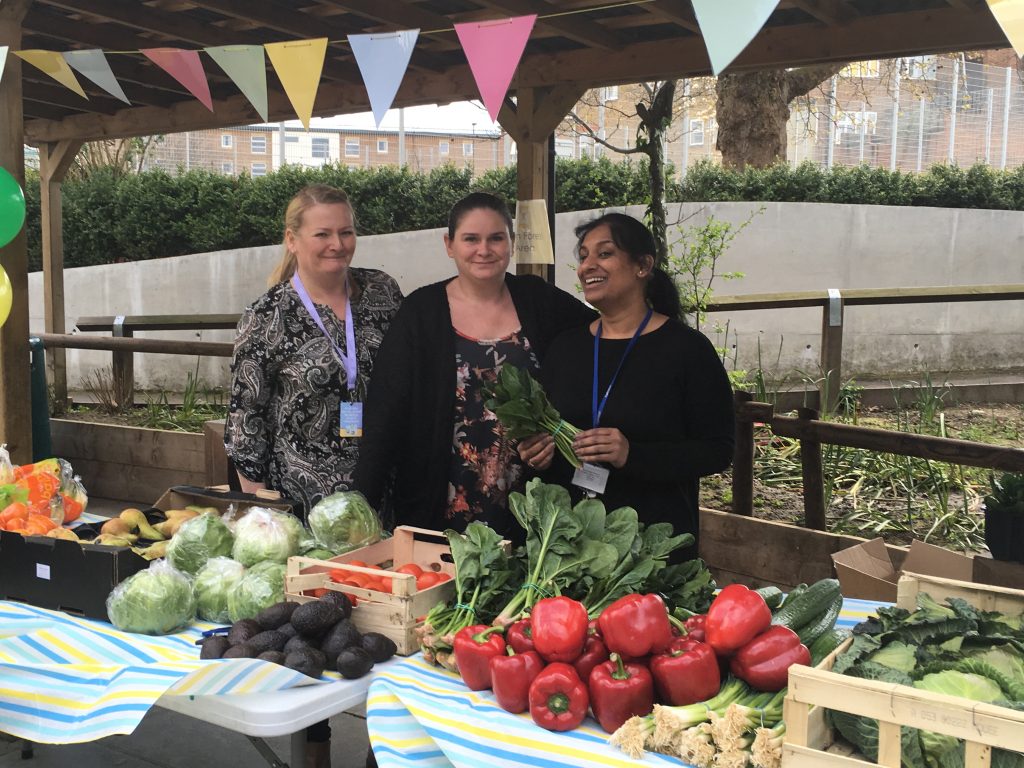 About the project
GCDA facilitates the fruit and vegetable stalls which are located in one of Royal Borough of Greenwich's deprived wards, with the nearest supermarket in Woolwich town centre. Local shops offer very little (if any at all) fresh food produce and it is typically stocked below the eye-line on the bottom of shelves).
Each week the fruit and vegetable stalls at Children Centres (Mulgrave, Eglinton and Pound Park) and the community venue (Woolwich Common Community Centre) sell a selection of seasonal fruit and vegetables, and each week a total of 500kg fruit and vegetables are sold at affordable prices to 300 residents and families. The stalls are located outside in a playground or by an entrance and usually, run for an hour or more depending on the site.
The project was launched at Mulgrave Children's Centre in May 2015 and quickly expanded across the other Children's Centre. The success of this healthy eating initiative is due to multiple factors.
Greenwich Corporate Development Agency (GCDA), experienced in running healthy eating initiatives guide, source, store and distribute wholesale produce to the Children Centre. GCDA provides guidance on how to set up and run stalls, how to promote the produce and project, to facilitate access to foods which support healthier eating habits.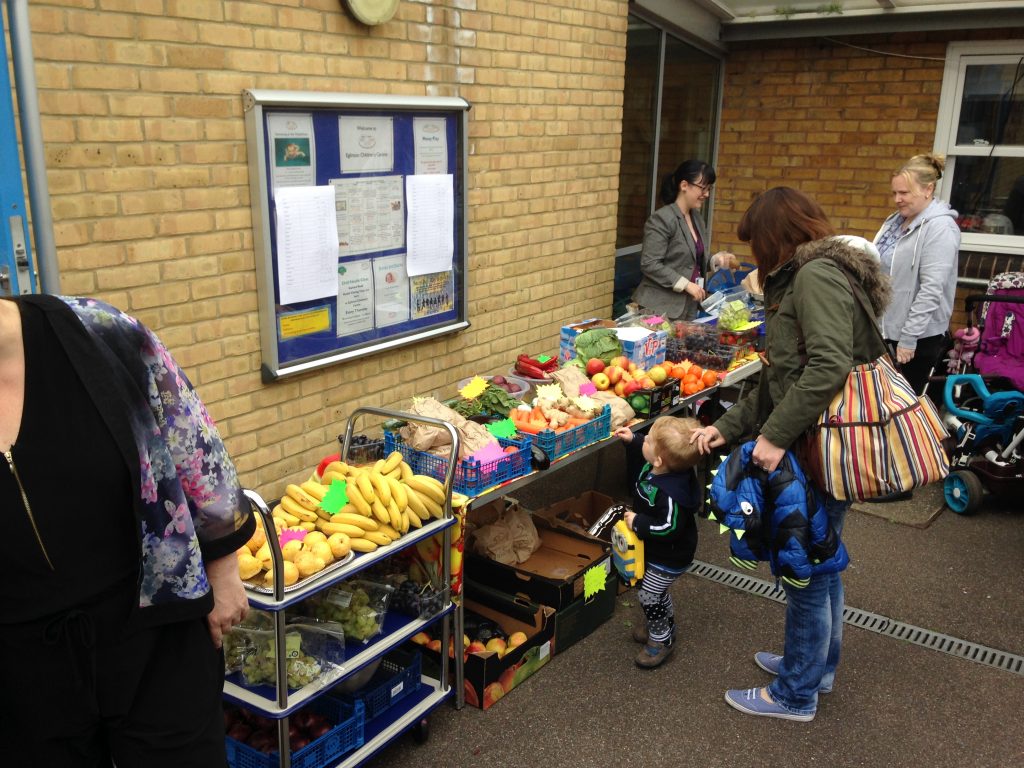 The project is a sustainable model. GCDA offers supported wholesale, which means there are no additional costs apart from the wholesale cost of the produce. And because this project supports the Children's Centres and community venue to achieve one of their core roles (meet families and the community), they are happy to invest staff time.
The project is making it far easier for families to include more fresh produce in their diet, they now have the opportunity to purchase seasonal fruit and vegetables in their local neighbourhood, while picking up their children from children's centres, school or nursery or walking past their local community centre.
The weekly presence of the fruit and vegetable stall has become a visible and vibrant part of the fabric of the Children Centres.  Family workers are more easily able to engage with harder-to-reach families and to promote the Healthy Start vouchers scheme for purchasing fruit and vegetables.
Healthy Start Voucher
Since April 2016, the Children's Centres are registered as a Healthy Start retailer and are able to exchange Healthy Start vouchers for fruit and vegetables sold on their weekly stalls. Healthy Start is a Department of Health welfare scheme, which provides families on low income, and children up to 4 years old, with financial assistance in the form of weekly vouchers to spend on milk, formula, fresh, frozen or tinned fruit and vegetables.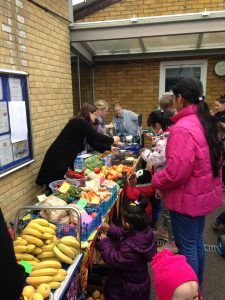 The Healthy Start Vouvher scheme replaced the Food Welfare scheme in 2006 and since the changes, there are some eligible beneficiaries (families on low income), who are not registered with the Healthy Start scheme, and therefore are missing out on free milk, fruit and vegetables. Across London boroughs, this results in £5.5M of unclaimed Healthy Start vouchers each year. Initiatives that raise awareness about the scheme and increase the number of retail outlets accepting Healthy Start vouchers are a welcome, and a necessary step in supporting eligible families to access healthier food.
Expansion of Healthy Start-registered fruit and vegetable stalls into Children's Centres and community centres in neighbourhoods with poor access to healthy and affordable food was one of the recommendations from a Greenwich food poverty needs assessment in September 2016.
[1] Access is determined by geography (e.g. distance to shops which offer good value healthy food).
2] Greenwich JSNA,2012 –  a tool used to examine deprivation levels in England, known as the Indices of Multiple Deprivation (IMD), ranks Greenwich (against all domains) as the 19th most deprived local authority (LA) in England (out of 326 Local Authorities) in 2010.