Look out for Mahonia aquifolium on your next walk, be it locomotion to get to work or for the sake of exercise.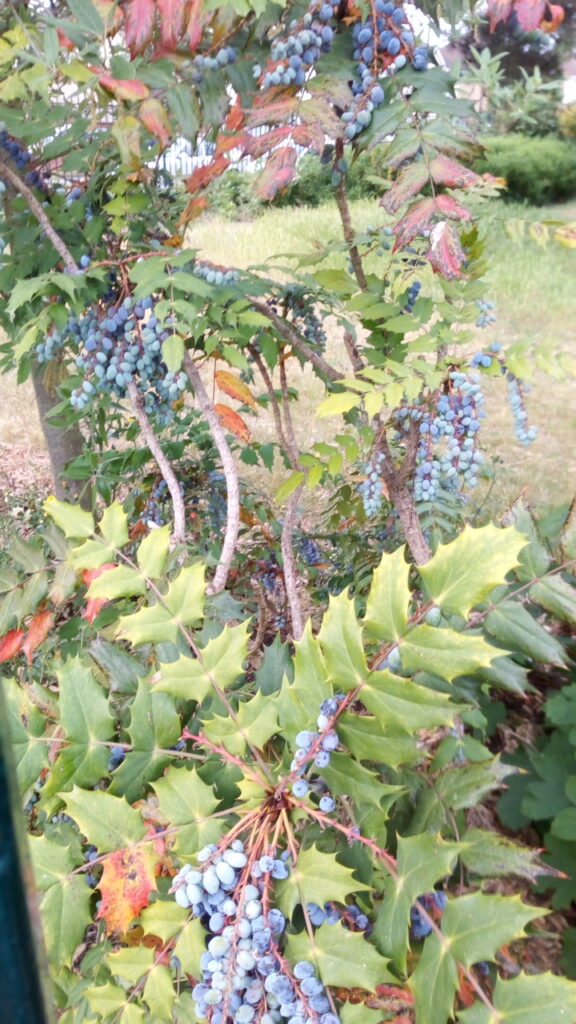 It is often used in municipal planting schemes but appears in gardens as well. The clusters of scented bright yellow flowers in spring are followed by blackish-blue berries that are edible but too sharp for many people's palates. Those in the picture are just reaching ripeness as they shade from green to purple. They won't be ready until they are a more vibrant, dark colour. Foraging, the taste can vary from plant to plant, depending on the variety, the soil and how much sun and water the plant receives. Some are quite sweet, while others have more of a 'green' taste. Some are decidedly pippy, while others are not.
A quick trawl of the internet will warn of possible side effects and toxicity, but as it is not something you are likely to devour in vast quantities, that needn't put you off trying them. I like to take a few when I see them and amuse myself by detaching the skin from the seeds inside my mouth without swallowing any of the pips. It is possible to use it in recipes. Maybe this will be the year I try one of them out.
Kevin Godby
Community Gardener