Having a weekly veg box has compelled me to get creative to use up what I have to avoid wasting food. Making soup is an easy way to bring the amount of produce to more manageable proportions. Baking is the other. Quite many vegetables can be smuggled into cakes to use them up, for instance, carrot, courgette, parsnip, beetroot and butternut squash. If I start to get seriously overwhelmed I can always blanch and freeze the excess and of course, I could simply not buy a box one week.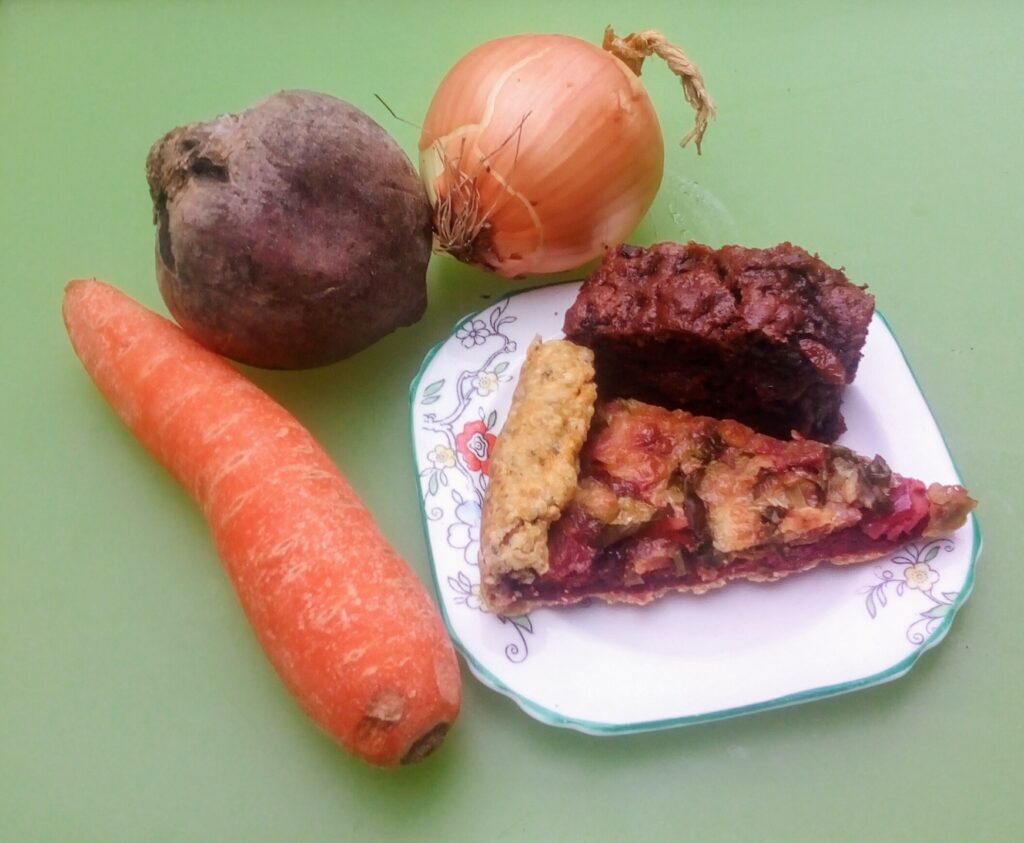 In the picture, the cake is made with an equal amount of grated beetroot and carrot with sultanas and cocoa. It is a moist cake and kept well enough for the few days I had it out on the side under a cover. The tart alongside features grated carrot and oats in the pastry, rolled out thinly because I used half the amount of flour in the original recipe. It was topped with grated beetroot, then with softened onions and the last of the horseradish leaves chopped small. Instead of the two egg and milk mixture of the initial recipe, I used only one egg, less milk and a decent amount of strong cheese. Cheese is always useful to have in the house to lift a serving of plain vegetables from a worthy undertaking into an enjoyable experience. Butter serves much the same purpose.
I have researched just in case there is a recipe for a sweet cake using onions, but unless you can find something called a sweet onion, there aren't any. However, I did find something called a green onion cake which I think I will try using leek instead of spring onion since I have one and a half of those to get through.
Kevin Godby
Community Gardener