I now have but one sheet of gelatine left which suggests that at least when I bought it I used it for something, otherwise they would have all been used up.
Everything pictured is past its best before date. The gelatine is the baby since it officially ceased being OK in 2019, but the dried (or more accurately wizened) mandarin segments date from 2013 and the rose flavoured syrup, all the way from Singapore, with associated carbon footprint, is of 2011 vintage. I vaguely recall buying it in Plumstead High Street for the nostalgic appeal of the label. I remember buying the mandarin segments because they were reduced along with some green mandarin segments, to use them in some exotic dish that never materialised.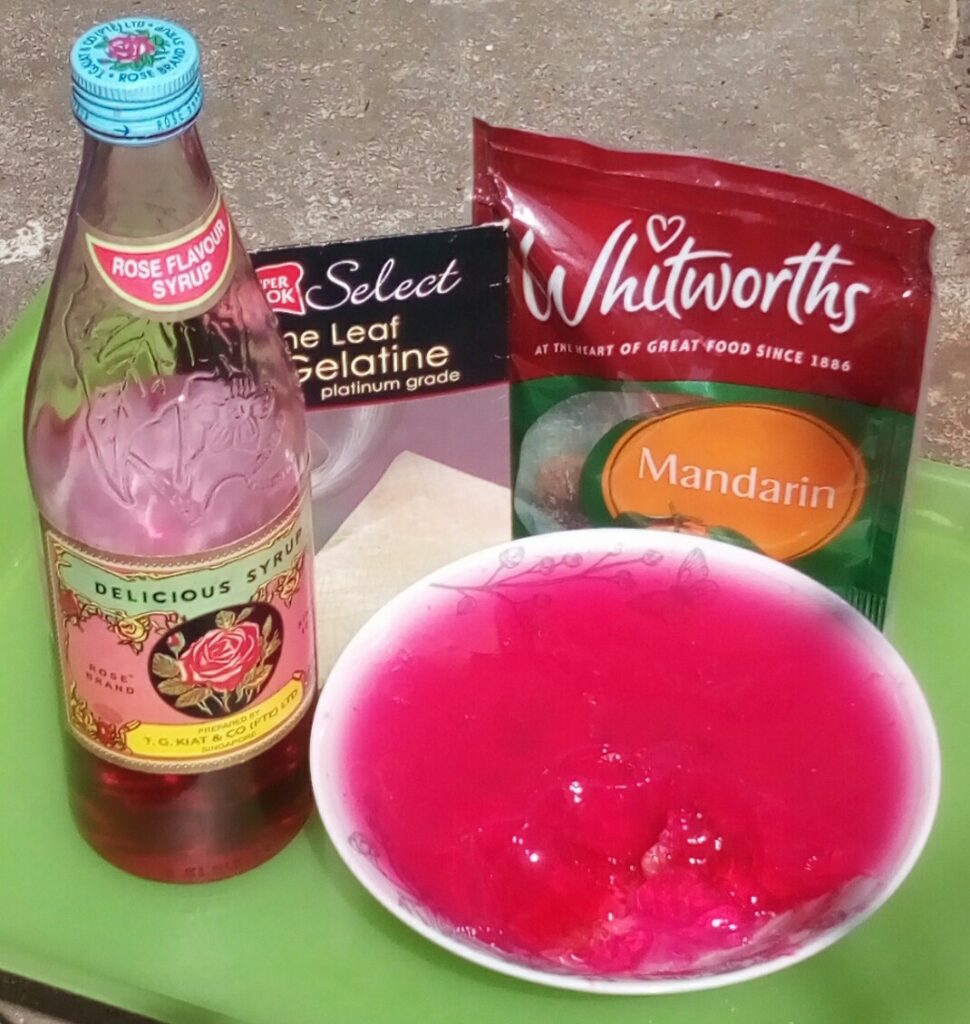 For all three things to be available in the cupboard shows they are not ingredients I have been in the habit of reaching for. But their time has come and they have been combined in this impossibly pink confection, usually served with a dash of cream cheese. Jelly is not something I eat regularly. I clearly remember buying and throwing away packets of jelly on at least two occasions because the fond idea of indulging in a nostalgic sensation wasn't sufficient incentive to recreate the past. I just didn't fancy it, and it wasn't the thought of eating boiled down pig remnants that put me off either. I simply couldn't be bothered.
However, this trio of elements have now literally had their place in the sun – just look at the photo – but once they have been finally consumed I am unlikely to buy any of them ever again. Quite possibly the disruption of food supply chains will mean certain things won't reappear on the shelves and if they do, not at a price people are prepared to pay. It was fun while it lasted, though.
Kevin Godby
Community Gardener