"What doesn't kill us, maims and cripples us" as one of my friends once jokingly said. Many a true word is spoken in jest.
My standard walking route is the one I copied by following a nimble looking chap with a lively dog who entered the local open space at exactly the same time as I did and who, annoyingly, took the same direction as I planned to. So I followed him at a discreet distance to see where he would go; thinking that if I did, I would be going at a decent pace.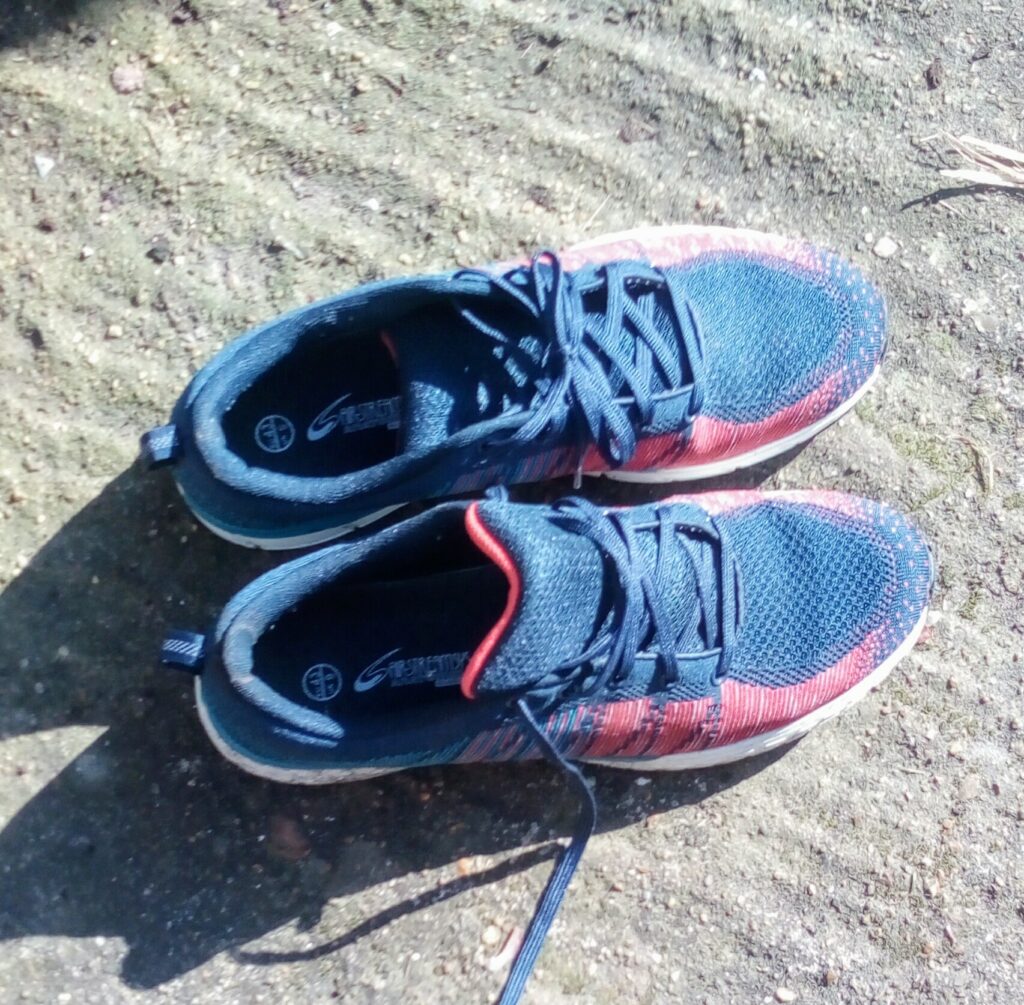 He demonstrated excellent social distancing skills, better then most of the other people there, and kept well away from everyone else.
Two-thirds of the way round he abruptly changed direction and cut across the grass to take in a line of willow trees before leaving the park. I reached him just as his dog was doing its business and overtook him while he attended to it. It had been a challenge to keep up but I reckoned him to be at least 15 years younger than me, so I did not feel too bad. It was a good route to follow. I have since added a couple of extensions to include extra slopes. 
 A few days later, after a daily jaunt, I had developed a pain in the back of my left heel probably caused by expecting dormant muscles and tendons to adapt seamlessly to the new regime. It was time to crack out the trainers I had bought a year or so ago with a vague intention to do more exercise one day.
The first day I wore them, no sooner had I taken a few steps than I felt the sharp, sour pain of skin being rubbed from the backs of my heels. I ignored it and carried on, having internalised the gender-specific mid-20th century advice in the face of any physical pain to be a brave little soldier. The next day I had plasters over the raw skin and went out again. The pain subsided after a while but when I checked at home the damage was worse. If you look closely you can make out the evidence of injury at the top of the heel padding.
On the third day, I decided I was not going to hobble around the usual route and make a show of myself and peeled off instead into another nearby park. There, I triple folded my socks to protect the blood-soaked flesh and walked around at my own pace. No one else was there. I went at a sedate tempo round the paths and steps until I had worked out the best circuit. I soon decided this would be my alternative weekend route when the other nearby space was stuffed to the gunnels with doggy walkers. 
This second space has plenty of bird song and incorporates enough changes of level to be beneficial. Yet it is small enough that at any point I can quit and go home without being stuck a long way from the exit. The next thing to do will be to find an online exercise routine I can adopt in case of inclement weather or a complete lockdown. I have looked at several but I am in absolutely no hurry to start. Walking will do for now.
Kevin Godby
Community Gardener