I don't normally eat pudding. If I do have it as part of a meal out, I would tend to have something rich, like sticky toffee pudding. Fruit salad rarely appears on a pudding menu, certainly, I don't recall having seen it, but if it did, I certainly wouldn't choose it. I'm not keen on fruit salad. 
Perhaps that is because tinned fruit isn't very appealing. As a child, I quite liked 'little oranges' (tinned mandarins) but that was as much because of the evaporated milk they were served with as the segments themselves. However, not even evaporated milk could work wonders with tinned fruit cocktail. Fruit cocktail was all about who managed to get an artificially pink half of a cherry in their bowl. Invariably there were two pieces, one each. They had literally no cherry flavour whatsoever, but the vivid colour was appealing. It was always eaten first. After that, it was all downhill. The chunks of peach, the cubes of pear, the pieces of pineapple and the morsels of grape were all so much ballast; OK but nothing to get excited about.
Worse still was asking if there was any pudding to be told "You can have a piece of fruit". The fruit bowl usually contained overripe banana, grapes going over, or apples with unappealing, bitter skin (probably all the pesticides and wax). All overripe because they weren't wanted. It wasn't unknown in our house to find an apple in the fruit bowl with a brown oxidised patch outlined by tiny teeth marks – one bitter mouthful, and put back.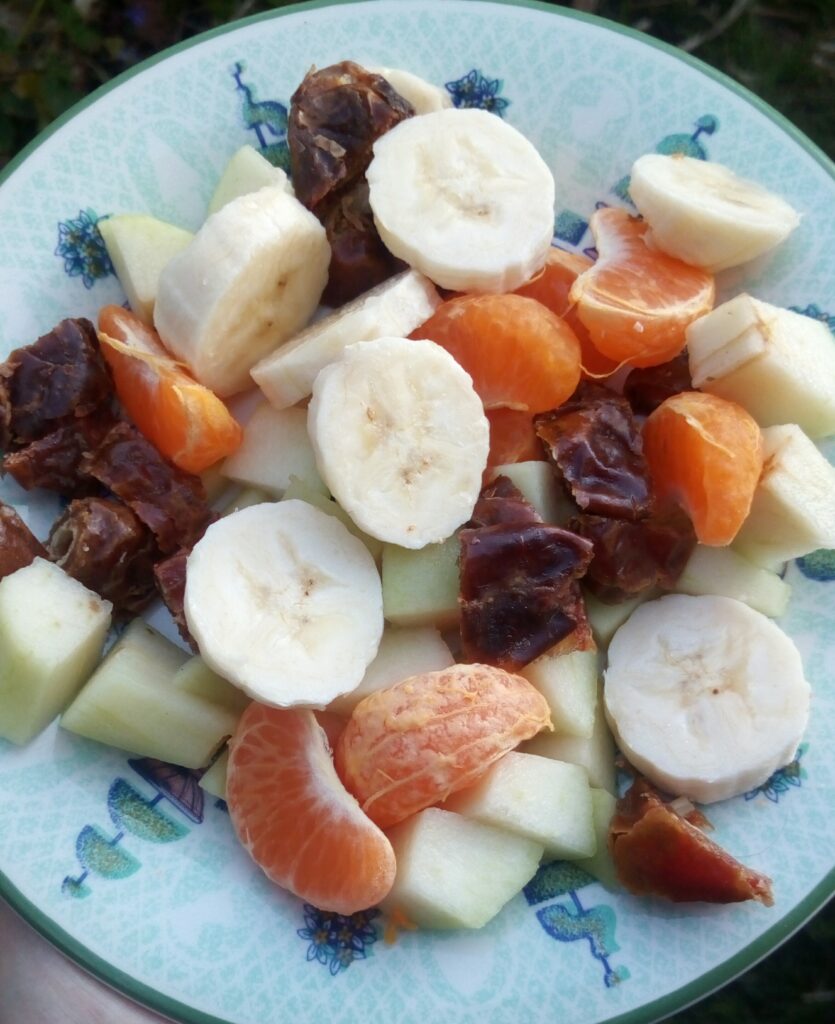 On the other hand, with a restricted diet, a pudding can make up for a lighter main course. This is why pudding featured more often as part of the British diet in the days when most food was prepared and consumed in the house. Thus, the other evening after a meal of soup, and still feeling peckish I took a little extra time to peel and chop the banana, pear and clementine and add several pieces of chopped dates. Instead of just having a few pieces of fruit, I had served myself a two-course meal – luxury!