When the announcement was made that shops selling non-essential goods were to be closed, thus triggering a renewed wave of panic buying, I took stock of my store cupboard ingredients and shared them out over the next few months. 
I have always made sure I have a stash of the items that were conspicuous by their absence on the shelves at that time. Things such as tinned tomatoes, beans and tinned fish. Not regular pasta though, I ate enough of that in the 1980s 😉
A typical month's allowance includes 1 tin tomatoes, 3 tins beans (white kidney beans reserved for mashing up and baking in case flour is in short supply), and several tins of fish, all left out on a tray in the kitchen to make sure I use them up. Each month will have a lentil day, a rice day and a noodle day and there will be other random goodies shared out over the different months. There will be two baking weeks, one with flour and one using white beans, and a meat week, a cheese week and a chocolate week to overlap as needed. It's open season on anything in the fridge, so I expect to be making inroads into any jars of preserves and pickles lurking there. 
As an added bonus, any opened packets and jars are included in this month's food, as is anything with a best before date that has passed, sometimes by several years. As I grew up in a time when jam wasn't refrigerated after opening but kept in the cupboard, with mould scraped off if required, that sort of thing doesn't bother me. The 2017 tomatoes were fine, with no fizzing contents, and the 2018 crackers still had a surprising amount of crunch. The 2015 sardines were also perfectly OK, just a bit softer than would be expected. I am not advocating eating out of date food for anyone to whom that is an issue but 'best before' and 'use by' are two different things. The two bulging tins of anchovies which are still in date have been flagged up to the shop I bought them from and will be going back for them to investigate. I certainly won't be eating them, especially after one spurted out oil under pressure when I opened it just to check if it might seem edible. The smell said otherwise.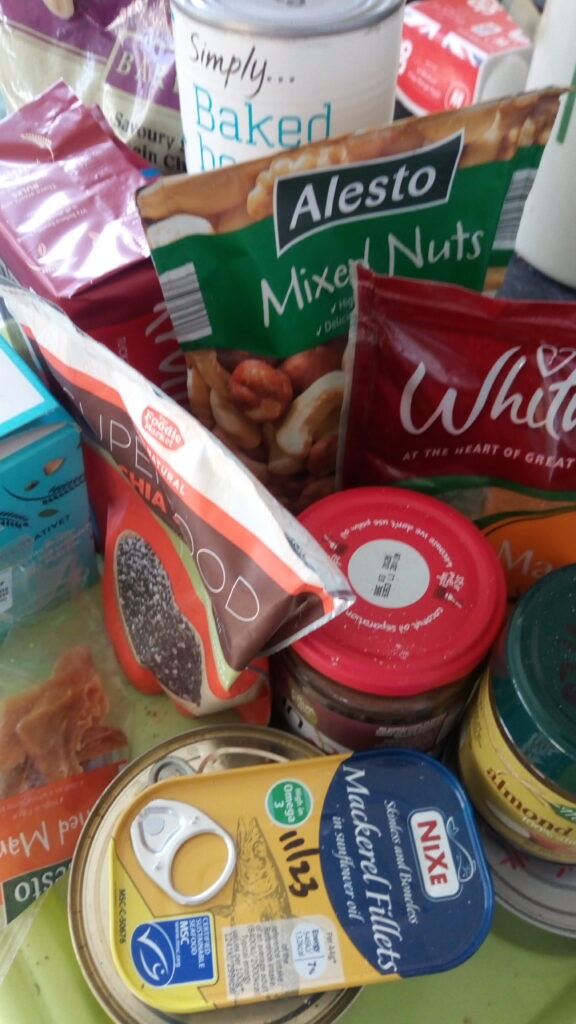 Obviously a few tins aren't enough to live on and I will be buying fresh whenever I can and dipping into the freezer when I can't, but the less I have to visit the shops, the better. It's not about saving money since I could afford to buy more expensive ingredients if I were prepared to run the gauntlet after queueing up outside the big supermarkets or to wait until doomsday for an online delivery slot. Nor is it a phoney 'we're all in this together' virtue signalling – I mention no names. No, it is about using up what I have paid for. I was never in the habit of wasting food but now I am even more careful to use everything.
Based on brief conversations I've had with various people, others are taking stock and trying some interesting and unusual meals, eating less and not snacking between meals. A sweet course is a chance to boost the food value of the whole meal, especially when the main course has been a bit lacking in substance, eg a soup. 
It is all a bit 1950s in spirit, unfamiliar but strangely nostalgic.