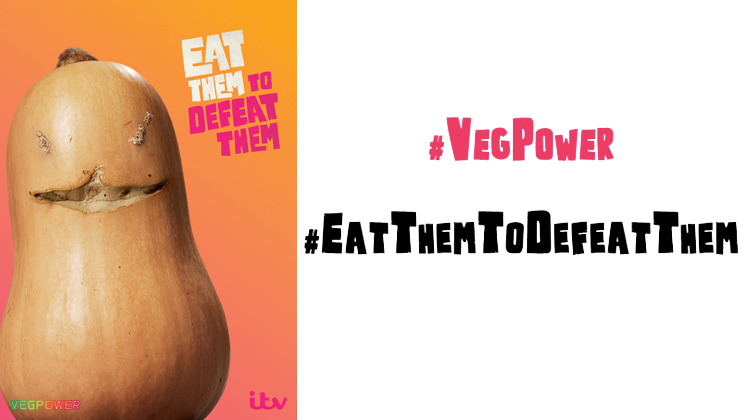 GCDA is proud to be taking part in an exciting national campaign to encourage everyone to eat more veg.
Each week for the next 10 weeks we'll be featuring a different tasty vegetable for you to try. Check out our videos click here, have a go at our recipes and read our top tips for new ways with veg.
Share your stories in the comments section at the bottom of the page and spread the word via social media.
#EatThemToDefeatThem #VegPower @gcdauk @VegPowerUK
Join the campaign – www.vegpower.org.uk/

Recipe
CHOCOLATE AND SQUASH CAKE – serves 12
Ingredients:
Cake:
½ medium butternut squash, peeled and deseeded (about 400g prepped weight)
75g dark chocolate, chopped 
100g low fat spread, plus extra for greasing
200g caster sugar 
3 medium eggs, lightly beaten 
300g ground almonds
1 tbsp gluten-free baking powder
1 tsp ground nutmeg
2 tsp ground cinnamon
Frosting:
150g cook's dark chocolate (about 70% cocoa solids), chopped 
100g low fat spread 
250g icing sugar, sifted 
a pinch of sea salt
Method:
For the cake, make the butternut squash purée; cut the 400g prepared squash into 2-3cm chunks. Cook in a pan of boiling water until tender, around 20 minutes. Preheat the oven to 200°C, fan 180°C, gas 6. Grease and line 2 x loose-bottomed 20cm cake tins.
Drain the squash and allow to cool, then blend to a fine purée using a stick blender; it should be quite wet. You should have at least 300g. Melt the chocolate in a heatproof bowl over a small saucepan of barely simmering water. Leave to cool slightly.
Cream the low fat spread and the sugar in a large bowl using an electric mixer until light and fluffy, then add a third of the beaten egg to the mixture. Mix well and add 250g of the butternut squash purée. Don't worry if this curdles slightly as it will come together with the dry ingredients. Put the almonds, baking powder and spices in a bowl with a pinch of salt and mix well; add to the wet mixture, mix well.
Add the melted chocolate to the cake mixture, along with the remaining eggs. Mix well. Divide between the 2 prepared cake tins and bake for 25-30 minutes or until a skewer comes out clean. Cool in the tins for about 10 minutes before removing and transferring to a wire rack to cool completely.
For the buttercream, melt the chocolate, set aside and leave to cool slightly (about 10 minutes). In a large bowl, beat the low fat spread until creamy and light using an electric hand mixer, then add 50g of the butternut purée. This won't immediately combine so just ensure it is mixed in as well as possible. Gradually add the icing sugar until fully incorporated. Add the melted chocolate and beat until light and fluffy. Add sea salt to taste.
To assemble the cake, use a palette knife to spread the top of one sponge with some of the icing then sandwich together with the second sponge. Spread the rest of the icing on top 
Our Top Butternut Squash Tips
Did you know that if you roast butternut squash in wedges or slices you can eat the skin for extra fibre?
Layer up slices of butternut squash with crumbled feta, some dried chillies and thyme for a veggie main option