Hospitality and Food Service operators from London came together at Cyrus Todiwala's Café Spice Namaste last week to hear from top chefs and industry experts about how they can dramatically reduce the amount of food they throw away.
The event 'Small Change Big Difference – the true value of food' was organised by WRAP as part of TRiFOCAL, a London-wide project designed to take action on preventing edible food from going to waste, recycling inedible food, and promote healthy, sustainable eating.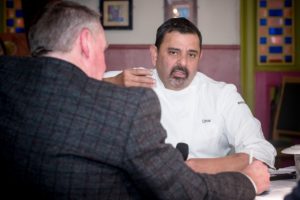 At the event, guests heard from top chefs Alice Gilsenan (founder of Tiny Leaf, London's first and only organic, zero waste, vegetarian restaurant),
Silla Bjerrum (chef and consultant) Stephen Scuffell (executive chef for Crown Moran hotels) and Cyrus Todiwala OBE DL, as they explained how small changes like reviewing and reducing portion sizes and making the most of your ingredients can make a big difference to your bottom line.
Guest were also given an introduction to the 'Your Business is Food, don't throw it away' campaign materials, with advice on how these can help food businesses save money and boost profits by throwing away less food.
And to drive the point home – Cyrus treated guests to an unforgettable lunch made from surplus ingredients including Broken Basmati Khichri and Mixed Vegetal Bhaji using second vegetables.
Claire Pritchard, London Food Board, who facilitated the event, said: "London's food scene is one of the best things about the capital, but there's always more we can do to reduce food waste. The previous GLA's FoodSave scheme, for example, helped London's small food businesses prevent more than 1200 tonnes of food going to waste, saving these businesses more than £500,000 and the good practice learnt is helping inform this new project. We're making progress every day, and events like this are key to driving behaviour change."
Eleanor Morris, programme manager for WRAP, one of the organisations behind TRiFOCAL and 'Your Business is Food; don't throw it away' said: "Almost 20% of food which the foodservice industry buys each year is thrown away and costs each outlet an estimated £10,000 a year. It's no good for the future, no good for the environment, and certainly no good for the bottom line. But by tracking and taking action on food waste – food operators can make a big difference, as our guest speakers and case studies proved."
To download the free 'Your Business is Food, don't throw it away' tools visit http://www.wrap.org.uk/ybifbusiness